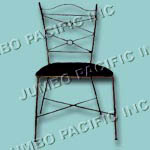 Wrought Iron chair (FW0011).
copyright © 2000
JUMBO PACIFIC
All rights reserved • powered by
JUMBONET®
One of the two forms in which iron is obtained by smelting; the other is cast iron. Wrought iron is a soft, ductile, fibrous variety that is produced from a semifused mass of relatively pure iron.