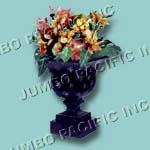 Base (FS0007) made of Ricardo Planter black stone and snakeskin comb 24" diameter x 32" Height.
copyright © 2000
JUMBO PACIFIC
All rights reserved • powered by
JUMBONET®
Any of various minerals highly prized for beauty, durability, and rarity. A few noncrystalline materials of organic origin (e.g., pearl, red coral, and amber) also are classified as gemstones.